Seven Years is a Long Time
24.02.2013
It took us a while to complete Driftmoon. In fact, it took us over seven years. But we're here now, and Driftmoon is finally just two days away from official release! Now is a good time to look at our long journey to today.
I just read my History of Driftmoon Development written in 2009. It's mostly a history of a project called Cormoon, a game that never was. The easiest way to describe what Cormoon was going to be back in 2005 is to have a look at Terraria. Me and Michael AKA Quanrian (Thank you for the work we did together, Michael!). The same excellent team as we had with Notrium, a game that probably had millions of players at its prime. I blame the Sun. Being online at the same time is a must in a tightly knitted team, and being separated by night and day didn't help much. It was a hard decision to stop the Cormoon project, but the truth is that it would never have become a reality, no matter how long we would have worked on it. Cormoon was the classic story of failed communications, stupid planning, unrealistic expectations, and of course, a story of boy meets girl.

But you don't stop a game project if you don't have a new one in your mind! In spring 2009 the Cormoon codebase turned into the Driftmoon codebase. This is what Driftmoon looked like in 2009. Did I have a real plan? No, not a real one. I just had an idea of making an RPG in the spirit of Ultima VII. Did I have a plot written down? No, I thought I'd make it up as I went along. Never make that mistake.

It's fine to prototype and test game ideas, especially for a genre that isn't as story-heavy as role playing games. But a role playing game is all about the content, it's all about making the player believe he or she is in another world, and to take him/her on a fantastic adventure. And you can't do that without being absolutely sure what your story is about.
My lovely wife Anne joined me in developing Driftmoon, and by the end of 2009 we already had a demo available. We were planning on releasing the game soon(ish). But we still didn't have a definite idea of who the main villain actually was, who the player was, or even how the game would start. We took over a year of refining the plot, but it didn't get much further. The story we had going at first just wasn't interesting enough to convince us, and I was devastated... If I could go back to those days, I would say to myself: Get your story together!
Fortunately some very important people liked my work, and I received the 50 000€ Sammon Tekijät Award for making such excellent games. Can you guess what we invested the award money in? Developing Driftmoon, of course!

Then one evening, after countless hours of juggling different ideas (when we get going, Anne and I are real idea machines), and even praying about it, the perfect story came to us! It was exhilarating! We immediately started fitting the story into Driftmoon. In a very real sense, about two years ago, we decided to remake the game. But this time we had a story we could both stick to 100%, and it wasn't just any story, it was the perfect story!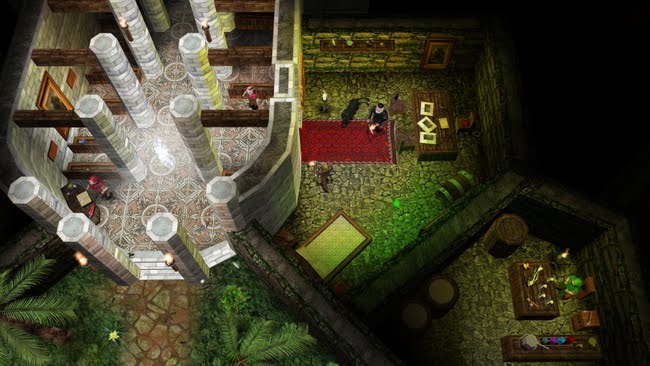 Now we had a story worth writing home to your mom about, and we only needed to make a fantastic role playing game that tells the story. I keep telling people that making the game is the easy part, figuring out which game you should be making is the hard part! We kept releasing version after version with new levels, more content. And finally we started getting the kind of results we wanted to hear, people telling us of their own free will how much they enjoyed the game, some people even told us that playing Driftmoon cheered them enough to get through very difficult times. You can't beat the feeling of hearing that your game made a real difference to someone.

By the end of 2012 we had completed the plot, and were getting ready to release the game as soon as possible. But we had a strange problem. A problem of viewpoint. By now we were getting two kinds of feedback, others who loved the game and proudly told us so, and others who kindly mentioned that they were getting vertigo just by looking at the screenshots. It's not always easy to tell people what they really need to hear, and the people who told us about the viewing angle are to be thanked two times over.

After finally realizing how many people truly had a real problem with the fully top-down viewpoint, it took us one more month to make it possible to tilt the camera. (Mind you, if you're one of those people who really liked Driftmoon better top-down, you can easily make it happen by pressing Page Up!)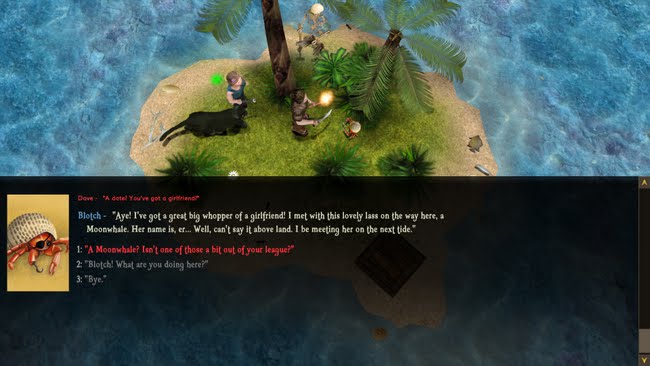 And now Driftmoon is finally complete! It's been a long and eventful journey, with plenty of ups and downs, though gladly we've mostly had fun! We've finally arrived at a game that we can proudly call our own. And what's best, I now share a common hobby with my wife (without whom Driftmoon never could have been)!

Finally, here's a big hug to everyone who has ever helped us, be it by writing about Driftmoon, voting for us at Greenlight, sending us feedback on the game, or just telling your friends! It really means the world to us, and we sincerely hope that we've lived up to your expectations.
Ps. A friendly player called Morgan just put together a Facebook Fan page for Driftmoon.
blog comments powered by